---
Copyright © 2005-2010
All Rights Reserved
TaiChiEasy.org
National Expert Meeting on Qi Gong and Tai Chi Consensus Initiative Process
The funding from the Archstone Foundation provides for:
The National Expert Meeting on Qi Gong and Tai Chi and preparation of the Consensus Document.
Announcement of the Expert Meeting and release of the Consensus Document at the 2006 annual conference of the National Council on Aging/American Society on Aging in Anaheim, CA with a media event and press conference.
Presentation of the meeting findings and the consensus report at three national symposia.
The implementation of two demonstration projects based on the recommendations.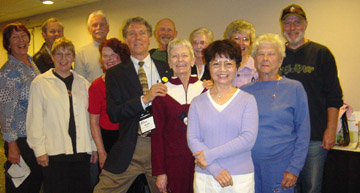 Dr. Roger Jahnke with a devoted group of Qigong and Tai Chi practitioners who demonstrated for the press on March 18, 2006 at the NCOA/ASA conference in Anaheim, CA.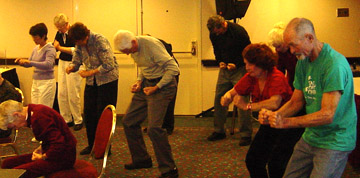 What's Next?
As a part of this project, the National Blueprint Office will sponsor two community demonstration projects that will be charged with implementing a Qi Gong and Tai Chi program that is consistent with Expert Meeting consensus findings and recommendations.
Sample Qi Gong and Tai Chi Program Content and Structure
Course Content
Dynamic body movements to promote balance, flexibility, strength, and range of motion while sitting, standing or walking.
Static standing postures for balance and concentration.
Static sitting postures for foundation to quiescent meditation
Breathing practices to promote oxygenation, relaxation, and concentration.
Meditation practices for concentration and focus, fostered by deep and/or controlled breathing.
Information about complementary and holistic health care (e.g. nutrition, longevity or vitality enhancement and philosophies that promote inner peace.
Class Characteristics
Group activities provide ample opportunities for social interaction
Fun and enjoyment stimulated by interesting practices.
Quiet environment for optimal movement and meditation practice.
Safe and supportive facilities to accommodate participants of differing physical activity levels
Ideally group programs should be offered 3 or more times per week for about 1 hour each session. However since many facilities schedule programs only once or twice a week, individual daily practice for at least 15-30 minutes is encouraged. Audio, video, and DVD programs for home practice may be helpful. Also certain populations will require briefer interventions or carefully modified practice settings for those with disabilities and limitations.