How to Become a Tai Chi Easy™ Practice Leader
Certificate Program Description
It is the era of wellness, personal self-care, integrative and mind-body medicine and holistic health care. Tai Chi is a powerful and widely revered form of Mind-Body Self-Care Practice with a Mindfulness focus.

This is your opportunity to
become Certified in a highly
refined curriculum of Tai Chi
and Qigong that is widely
revered nationally!
The Tai Chi Easy™ Practice Leader Training is 25 hour training that empowers individuals to share the self-care practices of Qigong and Tai Chi. Tai Chi Easy™ consists of a simple medical Qigong and a modification of traditional Tai Chi.

The Tai Chi Easy™ Practice Leader Training is our most widely known, most accessible training.
The World is ready and waiting for Mind-Body Health and Healing Self-Care Practices!


Teachers, Instructors, Practice Leaders NEEDED!


Add to your current career and skills portfolio – to maximize your competitive position in the field.


This is an unsurpassed time of professional opportunity in health care, wellness, personal growth, coaching, corporate training, counseling and more!


Billions of $$ will be spent researching the impact of non-drug /selfcare strategies for disease prevention – including Tai Chi and Qigong.


Mind-Body Practice is the most potent strategy for mobilizing self-healing!


A revolution is occurring and everything about health care, longevity and personal performance will be completely transformed in the next few years!


The human body produces the most profound medicine ever produced — For FREE!
Many have taken this training with no aspiration for leading practice sessions; they just want to practice Tai Chi and Qigong for personal health benefits. Even if you are more interested in sharing for fun, rather than for additional income or as a part of your job, you may wish to become a community service oriented Practice Leader.
12

Benefits You Will Receive at this Training!


One Amazing Training - Receive Two Certifications!
1. First, be Certified as a Healer Within™ Practice Leader by learning gentle mindful movement, breath practice, self massage, and meditation;
2. Next, be Certified as a Tai Chi Easy™ Practice Leader by learning Qigong plus 5 Tai Chi Movements

| | |
| --- | --- |
| | |
| Healer Within™ Practice Leader | Tai Chi Easy™ Practice Leader |
More Incredible Benefits to Attending
3. Instruction with highly respected Master Teacher, Dr. Roger Jahnke, OMD;
4. A perfect way to expand your current services and your income;
5. Training materials (DVD and training manual);
6. Follow-up webinar with Q & A to support your learning integration;
7. Being a part of a vibrant community of nationwide Practice Leaders;
8. Having lifelong practices that will greatly benefit you own health and well-being;
9. A signed copy of The Healer Within by Dr. Jahnke, presented at the training;
10. Empower others with simple practices that provide healing, wellness, and inner peace;
11. FREE Tai Chi Easy T-Shirt ($30 value)
12. Breakfast and healthy snacks
Plus
Just a 30 second walk to the ocean and the beauty of Santa Barbara, California and more...
Value of Certificate -- Credibility of This Certification and How It Adds to Your Professional Credibility
The Institute of Integral Qigong and Tai Chi (IIQTC) is an internationally recognized training an research institute. Tai Chi Easy™ is a nationally branded program, that is evidence based and implemented in wide array of facilities and institutions.
Those who complete the Tai Chi Easy™ Practice Leader Training are empowered to lead the self-care and health promotion practices in numerous environments. Many agencies, institutions and corporations are seeking this very type of program for stress resiliency, disease management, fall prevention, and employee wellness.
Graduates of this program are leading practice sessions in:
hospitals
wellness programs
retreat centers
fitness centers
yoga studios
corporate wellness programs
health promotion programs
community recreation programs
the YMCA
the military
veteran's administration
senior centers

retirement programs
golf country clubs
schools and universities
social service agencies
drug and alcohol recovery programs
rehabilitation centers
occupational medicine programs
physical therapy practices
hotels
spas
prisons
parole programs
WHEN YOU EXPLORE THE TAI CHI EASY™ OPPORTUNITY,
REMEMBER ALL OF THE EXTRA VALUE OF WORKING WITH THE
INSTITUTE OF INTEGRAL QIGONG AND TAI CHI (IIQTC)
You will not find a more comprehensive training and alumni support organization - anywhere! Call IIQTC Headquarters now at 805-617-3390 now to talk directly to our Administration Staff.
Tai Chi Easy™ is a carefully developed approach, that makes Tai Chi easy, fun, and beneficial right away. So, the learner does not have to learn 108 traditional movements, or even a traditional short form of 24, 36, or 42 movements.
Tai Chi Easy™ a simple form of mind-body self-care that can be done standing or sitting, focuses on 4 components:

Mindful Movement – gentle exercises that move, relax and stretch the body and increase balance and coordination.
Breathing Practice – triggers the de-stressing effects of the Relaxation Response™, increases circulation and energy, and enhances the body's natural healing process.
Self-Applied Massage – stimulates energy and circulation flow throughout the body.
Meditation – relaxes the body, centers the mind, and calms the emotions.
Tai Chi Easy™ is especially suited for those who wish to add Tai Chi Easy™ to the skills they bring to their work already -- teachers, senior activities coordinators, fitness coaches, yoga teachers, social workers, occupational and physical therapists, faith based health ministry coordinators, nurses, wellness coordinators, personal trainers, health care professionals, health and wellness coaches, massage therapists, and retirees who want to continue to serve their community.
There are many beneftis for you in joining the Professional Community -- The QiFamily, Qi Tribe! This is one of the most exciting professional opportunities of contemporary time -- a perfect opportunity to launch a career i health and wellness. At the IIQTC -- Institute of Integral Qigong and Tai Chi -- we have trained thousands of Practice Leaders, Instructors and Senior Trainers.
How It Works
Attend all hours of specified curriculum, successfully complete the practicum, receive a certificate and become a part of a global community of Tai Chi Easy™ Practice Leaders.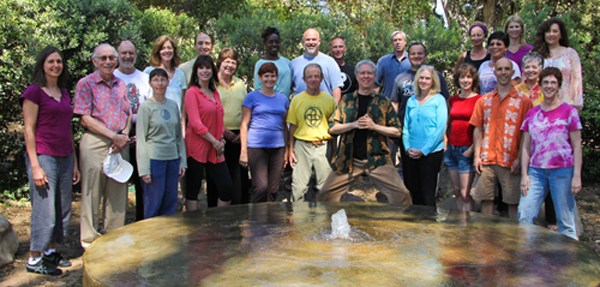 More About Tai Chi Easy™
In 2005, the National Council on Aging (NCOA) and the National Emphysema/COPD Association (NECA) became interested in the widespread implementation of Tai Chi Easy™. In the new era of complementary and mind/body medicine, Tai Chi and Qigong are rapidly ascending to the status of wellness power tools. The material learned in the Tai Chi Easy™ curriculum is a subset of the 200-hour teacher certification program of the Institute of Integral Qigong and Tai Chi.
Research is confirming the remarkable benefits of the ancient Chinese methods of combined meditation and restful movement known as Qigong (Chi Kung). Tai Chi is the most well known form of Qigong. Qigong and Tai Chi are among the most ancient wellness tools and have been advocated by Chinese physicians for over 2000 years. Tai Chi Easy™ is a contemporary approach to Qigong that is easy, effective and fun.
Essentially, Tai Chi Easy™ takes five of the traditional movements from Tai Chi family styles (Chen, Yang, Wu, Sun) and does them in a stationary standing position or seated. As the process advances, the movements can be performed, combined with Tai Chi Walking. When the movements - whether 2, 3 or 10 - are done in such a way that they are repeated to create a set or form, it is usually called Tai Chi Qigong. Modified or Adaptive Tai Chi is more like therapeutic or medical Qigong, especially when applied in rehabilitative, medical, or healing context.